In part 1 of this case study, we outlined how Sunflower supported our fantastic client Boldheart with their promotional Mindset Intensive Tour around the UK, leading up to a three-day intensive coaching retreat at a hotel in London. This was set for May 2020, but by the end of March it was clear that C-19 would mean live events weren't going to be happening for the foreseeable future. And so, here's part 2 and finding the best way forward…

Boldheart quickly took the decision to pivot and host their retreat event online (rather than cancel altogether), keeping the three-day format and hosting the entire event from Fabienne and Derek's apartment in Paris. Sunflower stayed on in the event management role, supporting the Boldheart team with the same roles as an 'in person' event, just online. (See the set-up in their picture, below.)
We worked closely with Boldheart in the weeks leading up to the event, deconstructing the live event, 'walking-through' the programme and identifying the elements that could translate into the virtual agenda, checking and double-checking the agenda and rotas.
Boldheart organised the technology, while we held team briefings, fine-tuned the checklists and staff rota and cross-checked each element of the agenda, to ensure that everything was accounted for.
The week before the event, Sunflower's socially distanced team of experienced event professionals (see their smiley faces with Boldheart CEO, Derek Fredrickson in the Zoom screenshot below) were personally welcoming and registering every single attendee via private Zoom meetings. They were taken through a tech check, the event dashboard and 'what happens next' in person.

The interaction of the 'registration desk' at an event was successfully replicated and welcomed by the attendees. It gave them the opportunity to ask questions in person and chat to the other people registering at the same time, calming any pre-event nerves and leaving them energised and ready for the event itself.
During the retreat, Sunflower's team ran check in at the start of each day, verifying that the person in the waiting room was on the list before they were admitted. We supported the break-out sessions, moderated the chat, answered attendee questions and ran the virtual helpdesk on a separate Zoom, enabling anyone to 'pop to the back of the room' and speak to one of us in person.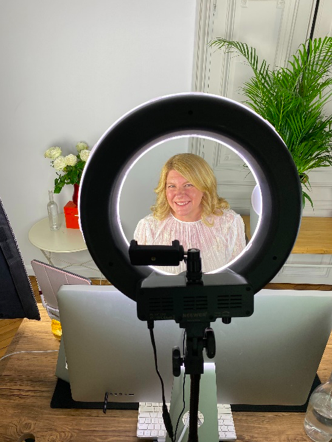 The energy that Fabienne created over three full days was amazing; attendees were still treated to the trademark Boldheart dance parties, Fabienne's famous hugs became virtual, and the feedback was ecstatic. One attendee commented "It worked so well online," while another said "Maybe even better than the live?"
We all learned a huge amount about virtual events in a very short amount of time, but our main 'take away' from the virtual Mindset Intensive Retreat is that all events, whether in person or online, need that 'personal touch', with genuine human interaction.
It's not enough for attendees to just turn up to a conference room or Zoom meeting: the pre-event communications and planning, the welcome, ongoing care and attention to detail has to be the same in both cases. We believe that the retreat attendees felt looked after, supported, and heard throughout the three days.