Sunflower Corporation's world of events before 2020 was filled with early mornings and late nights, venue finding, speaker liaison, arranging conference AV and entertainment, sorting catering contracts, booking travel and organising after parties. In the early months of this year, we managed events in five countries and all across the UK.
These days, we still have the early mornings and late nights, but we're no longer arranging catering (unless it's snack and treat deliveries), booking travel or finding venues. Instead, we're discussing software updates, internet speeds/broadband back-up plans and virtual speaker green rooms.
We've discovered that there are many similarities between online events and the ones we ran until March 2020; there are still attendees to look after, speakers and entertainment to liaise with, slides to plan, technical running orders, countdown clocks, Q&As, last-minute technical issues and job satisfaction. And all without the need for a taxi home!
Taking our business virtual during lockdown was a challenge, but we've loved the mission of helping our clients to take their events programme online; the example of Finance Training Academy's annual bootcamp demonstrates this perfectly…
In October 2019, we helped Andi Lonnen of Finance Training Academy with her annual bootcamp for finance business partners. It was a one-day event at a London hotel, with speakers, sponsors and networking for over 70 attendees. It was such a success that by December 2019, we had already sourced and booked a venue for 2020.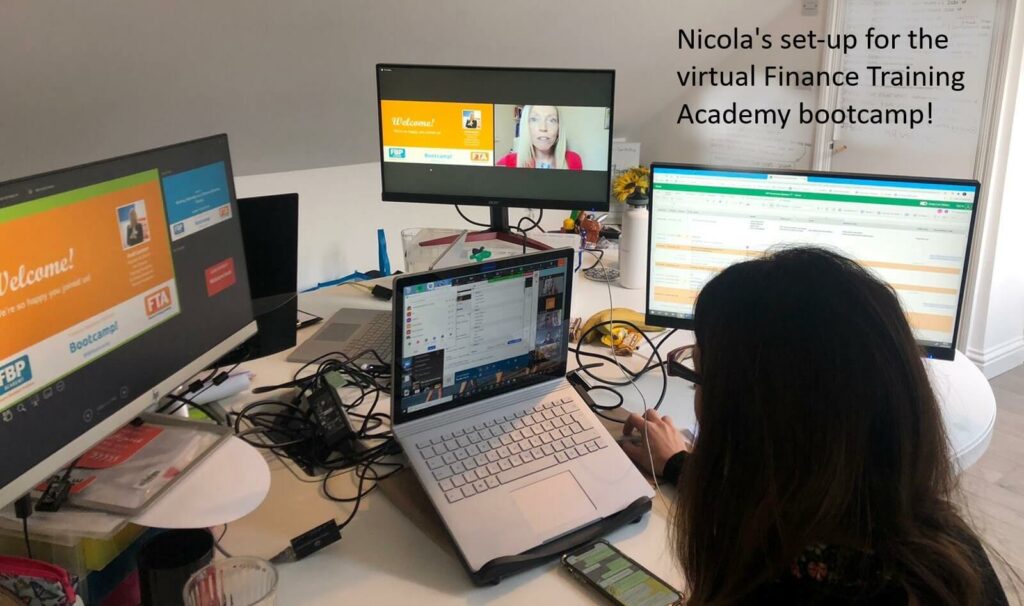 By mid-2020 it was clear that the event wasn't going to be viable as an in-person event for October 2020, so we began to talk through the plans with Andi with a view to switching the event to virtual.
Nicola took charge of planning the event, showing the possibilities  in online events. A detailed technical running order was prepared to ensure the show was slick.
In the days before the bootcamp, Nicola arranged a full technical run-through for the speakers and host, prepared holding slides, background music playlists and housekeeping information.
On the day, Nicola managed the event at Sunflower HQ while Hannah ran the speaker green room and watched the live feed for any issues; attendees were checked in by Antonia from her house, managing and updating a live delegate list. Andi hosted and chaired the whole day, introducing speakers and chatting with guests, keeping the event to time (impeccably may we add!).
We organised breakouts, sent out live polls, played background music (Nicola was on point with the chimes and sound effects!) kept to the time and running order, sorted technical issues and answered attendee questions.
The day was a huge success, and Andi was delighted:
"Thank you both again SO MUCH for your amazing efforts with this year's Bootcamp… and for your incredible contributions on the day. I saw people coming and going all day, getting booted out, re-entering, messing up going into the breakout rooms and I think some pretended to attend all day but didn't! You kept things running so slickly and professionally, you made it fun and the sound effects kept me and the others laughing all day!  Just brilliant!"