We all know that a well-formulated event brief is a wondrous thing. Some clients come to us knowing exactly what they want, where and when they want it, with times and numbers already planned; all the details tied down to the last canapé.
Other clients like to explore options, bounce ideas, change plans and generally keep us on our toes. These events might be time-consuming, but they are never boring! An open brief lets us get really creative, and forces us to think outside the box, which is why we love events.
One of our regular clients, Phrasee, come to us as we know them so well. This time the brief was with ideas for their fifth birthday party. We have event managed previous birthday parties for them and this year they wanted bigger and better, funkier, and crazier.
We started with a brief that focused around an industry panel, followed by a birthday party for all the staff and company 'phriends' (including a performance by the 'phabulous' Phrasee choir). COO Vic was looking for an open-plan venue (no booths!) that they could put a personal stamp on, including using giant light-up letters (hired from one of our favourite suppliers @strobeevents) that spell out the company's name (see picture), within a short trip of their Vauxhall HQ, but not in the obvious tech company areas like Shoreditch. The venue also needed to have two separate areas for the panel and party, and be close to bars and clubs for an after party. A range of dates were given as options.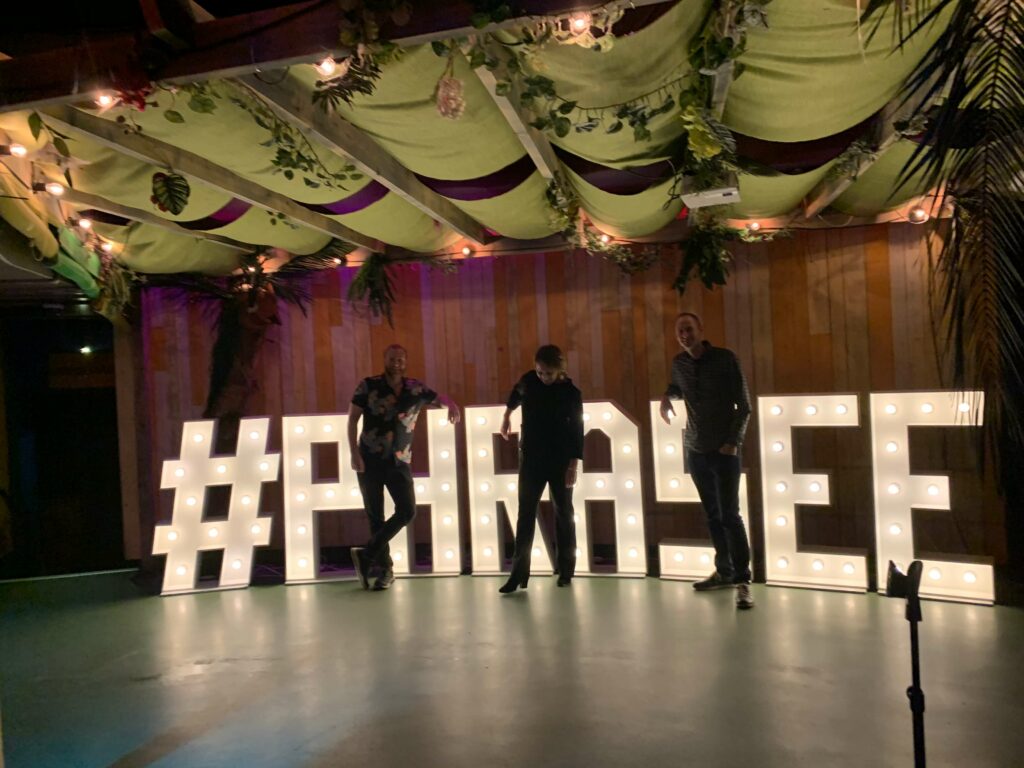 After researching and rejecting several venues due to them being unavailable, in the wrong area, or not big or flexible enough, we presented the Phrasee team with a range of options, from dry hire at Steel Yard to the elegant Banking Hall in the City.
We also added a 'wild card' in the form of Tropicana Beach Club in Covent Garden, a nightclub which ticked the 'different and funky vibe' box but didn't meet any of the original requirements – especially the no booths – but was available and big enough. After several site visits, that's the one the team loved best, enjoying the palm-tree filled space and beach theme, and proximity to some great bars for the after party.
The agenda went through several iterations too, ending up with a staff meeting (with pizza delivered for lunch) for 50 staff, a panel and networking session for 150 delegates (featuring drinks in Phrasee's signature orange) and ending with the birthday party for 250 guests – with a choir performance – for 250 pax.
The pre-event planning was meticulous with the large number of suppliers we had to manage. Sunflower managed the onsite event with an early set-up and a very late finish, ensuring a slick delivery throughout. A detailed running order was prepared, mapping out specific timings to accommodate the large number of onsite suppliers that needed to be managed with only one loading bay – including two furniture suppliers, two balloon suppliers, photographer, videographer, photobooth, production, light-up letters and the DJ.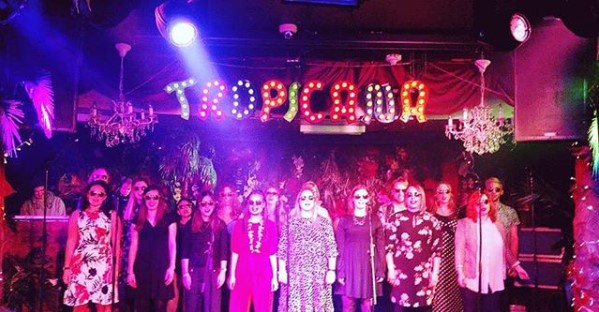 With a week to go, Phrasee also asked if we could arrange a reservation for them for the core team's after party. Using our contacts from 2019 Christmas party venue finds, we quickly pulled together a list of the nearest available places, with details of VIP reservations, drinks packages and temporary memberships. The team decided on Sway, a Holborn bar and club where we reserved an area and set up a pre-paid tab. By all accounts, a great time was had!